Endodontist Serving Piedmont, OK
---
Contemporary Endodontics of Oklahoma is proud to provide top quality endodontic services to patients in Piedmont, OK, including root canal treatment, endodontic retreatment, apical surgery, and treatment for cracked teeth. Our office is conveniently located in Edmond, a short drive from Piedmont, OK.
Call us today to schedule your appointment!
---
Contemporary Endodontics of Oklahoma
HOURS
Monday | 8AM - 5PM
---
Tuesday | 8AM - 5PM
---
Wednesday | 8AM - 5PM
---
Thursday | 8AM - 5PM
---
Friday | By Appointment Only
---
Saturday | Closed
---
Sunday | Closed
Request an Appointment
---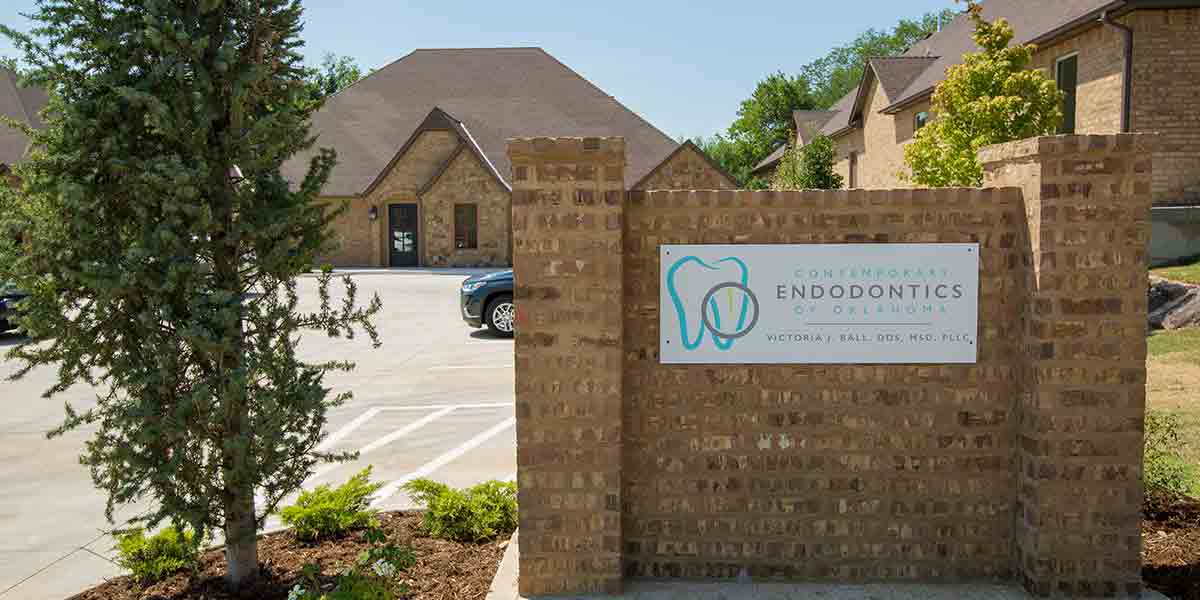 ---
---
Frequently Asked Questions About Endodontics
What procedures does an endodontist perform?
Root canal therapy, endodontic retreatment, and endodontic surgery are all performed by endodontists. Dental pain and traumatic dental injuries are also diagnosed and treated by endodontists.
Why would my dentist send me to an endodontist?
Piedmont residents are often referred to our office for tooth pain diagnosis or endodontic procedures. While some general dentists can perform root canals themselves, most complex cases are referred to endodontists, who specialize in root canals.
Is endodontic therapy a root canal?
Yes, another name for a root canal treatment is endodontic therapy.
What is the most common endodontic procedure?
The most common reason patients come to our office is for root canal therapy. An endodontist performs 25 root canal procedures a week, on average.
How painful is a root canal?
Root canals aren't uncomfortable at all, and they're often used to alleviate severe dental pain. Root canal therapy is often misunderstood to be painful, and many patients delay receiving necessary care as a result of this misconception. Most root canals aren't any more painful than a dental filling thanks to today's advanced endodontic procedures and local anesthetic.
Does insurance cover a root canal?
While dental insurance policies differ from one insurance company to the next, most do cover at least part of the cost of root canal treatment. Our staff will gladly assist you in determining your benefits and out-of-pocket expenses.
---
See What Patients Are Saying About Our Piedmont Area Endodontic Practice
---
"My experience with Dr. Ball and her staff was all first class. Extremely friendly, empathetic, gave great explanations of procedures and post procedure instructions, followed up with me via email, text and a call the day after each visit which shows that they truly care about their patients and future business." – G.G.
"Dr. Ball and Staff were wonderful! I was in quite a bit of pain and they got me in immediately.  They made sure I was comfortable and pain free for the whole process. If you have to get a root canal this is the place to go! Highly recommend!" – H.P.
---
Directions from Piedmont, OK
Head north on NW 1st St toward Monroe Ave NW
Turn right at the 1st cross street onto Monroe Ave NW
Turn left at the 1st cross street onto Piedmont Rd N
Turn right onto NW 178th St/Edmond Rd NE
Continue onto E 2nd St
Continue straight to stay on E 2nd St
Turn right onto S Coltrane Rd
Turn left onto Astoria Way
Contemporary Endodontics of Oklahoma will be on the right
Call us today at 405-285-5042 to schedule your appointment!
---